Dr. George A. Toledo is a double board-certified plastic surgeon who is nationally renowned for providing high-quality patient care in a safe, comfortable and private environment. A compassionate and discreet surgeon, Dr. Toledo is dedicated to helping patients improve their aesthetic concerns while preserving their unique beauty, so they feel confident with their appearance. With this in mind, he offers labiaplasty, sometimes referred to as vaginal plastic surgery, for women who are uncomfortable with the appearance or size of their labia. At Dr. Toledo's Dallas facility, Highland Park Plastic Surgery Center, women are confident in trusting him with their vaginal surgery.
Reviews
"So impressed with Dr. Toledo's rhinoplasty results! And even more impressed with how much my breathing has improved! I didn't even realize how blocked my breathing was until now, it really is life changing. Beautiful results. And a perfect little nose!"
- J.D. /
Yelp /
Mar 24, 2019
"I have spent the last several years wanting to fix my nose but wasn't sure what I needed done exactly / was scared of the process. I decided to just get a consultation to see what my options were. Doctor Toledo's office made the process extremely easy from day one. They had flexibility in their appointments and did not make me wait at all. Doctor Toledo was able to pinpoint exactly what I needed done to my nose. It was nothing major, but it really made an impact on my breathing and physical appearance. I dedicated shortly after the consultation to go through with what he recommended. After that, his staff did everything to make it a smooth process for me. Ester at the front office sat down with me and went over everything I should expect and made sure I didn't leave the office with any questions. They did give me a ton of pre-op instructions but they were all easy and simple to follow. These instructions are a reason my surgery and healing process went so smoothly. On the day of the surgery I was greeted once again with several friendly staff members. They calmed my nerves by getting my excited about this change and I don't even remember falling asleep in the OR. The healing process was also painless. I was up and working the next business day and had no pain at all. The results of the surgery exceeded all of my expectations. I hardly had any swelling just one week after the surgery and the physical appearance was exactly what I wanted. I am also now able to breath better than I did before. If you are a person who is considering a nose job, I wouldn't even think of going to anyone else besides Doctor Toledo. You will be treated with the highest level of care and I promise- your results will be amazing! I am thankful for everyone in that office who made this a truly amazing experience."
- MC /
Other /
Apr 28, 2021
"Truly Life-Changing -Best Decision I Ever Made!! I went in for a Septo-Rhinoplasty almost two months ago and am thrilled with my results! I'm almost thirty and had struggled with insecurity over my crooked nose since I was a child. It may seem a bit melo-dramatic but I always felt like my nose held me back from so much in life. I would hold back from wearing certain hairstyles because they'd make my nose stand out more and absolutely hated wearing my hair back in a bun or ponytail unless I was working out. It was hard for me to make eye contact with people because I felt like all they could see when they looked at me was my nose. Of course this isn't true, but it was hard to convince my mind otherwise when I believed that my nose was ugly. Silly as it may sound, I just wanted my nose to stop controlling my life! I wanted to be able to smile and not worry about how my nostrils flared out. I wanted to get dressed up for a fun night out and actually FEEL pretty rather than constantly carrying around the burden of self-consciousness. When I found Dr. Toledo, I was impressed by all the excellent reviews he had and how natural his work turned out. He is truly a kind and caring man who wants to change people's lives. His staff is equally caring and professional and I felt at ease throughout the whole process. Something very important to me as well was that he asked ME how I wanted my nose to look and worked with me to develop a realistic outcome based on my facial structure vs. telling me what HE wanted to do to my face. He is definitely an artist who values the desires and opinions of his patients. Two months post-op, I finally just feel free. I have a nice, smooth little sloped nose now and I absolutely love it! My confidence in interacting with people has soared and I can finally just go about my life normally as opposed to be constantly being preoccupied with my looks. I say this as someone who is NOT a superficial person. Having this procedure done was never about perfection and completely changing the way I looked. Rather, it was about altering one feature that brought a crippling amount of insecurity so that I could have a weight lifted off my shoulders. Trust me, my body has many imperfections including pointy ears and a crooked smile. But those are all imperfections I can deal with and even embrace as making me uniquely me. My nose was the one imperfection I could not embrace and I feel so relieved to finally just be fully confident and happy. Thank you to Dr. Toledo, Esther, and your amazing staff for changing my life!"
- K.L. /
Other /
Mar 28, 2021
"I saw Dr. Toledo at least 10 years ago and knew that if I ever decided to have a neck lift, he would be the one I would choose to go to, even though we haven't lived in the Dallas area for many years. Dr. Toledo and his staff are very professional and caring, and he is definitely someone you can trust working on your neck and face. Today I am 4 weeks post-op and am beyond thrilled with my results. I have no regrets whatsoever and would highly recommend Dr. Toledo to anyone seeking a cosmetic procedure."
- D.S. /
Google /
Feb 23, 2021
"Dr. Toledo and his staff are extremely professional and welcoming. We cannot be more pleased with our experience and the outcome of the rhinoplasty done on my daughter just a month ago. Dr. Toledo delivered what he promised and my daughter is extremely pleased with her new look. The process and experience was exactly as Dr. Toledo and his staff explained to us during our pre-op appointment. They were very detailed about the whole process including the surgery itself, after surgery do's & don't and the healing process. We would like to express our gratitude & appreciation for Dr. Toledo's professional expertise and his ability to make us feel at ease during the whole experience. We'll definitely recommend Dr. Toledo and his staff to our friends and family."
- A.S. /
Google /
Feb 18, 2021
Previous
Next
Candidates For Labiaplasty
There are two main reasons why women undergo labiaplasty or vaginal rejuvenation surgery in Dallas. Women either have a functional problem or a cosmetic issue. In many cases, it is both.
Women with a very large labia minora can have a true physical impairment, not just with sexual intercourse, but also during a variety of sporting activities such as cycling, horseback riding, and even jogging. This chronic irritation of the labial tissue is accentuated by wearing tight-fitting workout clothing or jeans.
As pubic hair removal has become popular, more emphasis has been placed on the appearance of a woman's genitalia. Dr. Toledo recognizes the frustration and lack of self-confidence that patients suffer due to an aesthetic concern. This is especially true in regards to vaginal plastic surgery. Women with excessively large, elongated or unusually shaped labia may feel self-conscious in intimate settings and may avoid intimacy altogether. Thankfully, by performing labiaplasty, Dr. Toledo is able to help these women improve their aesthetic concerns, so they can overcome their inhibitions and live life more fully.
As a highly experienced plastic surgeon who has been in practice for more than 34 years, Dr. Toledo understands that undergoing any type of cosmetic procedure is a personal and delicate situation. Since 1985, he has operated his plastic surgery practice in Dallas, Texas under the principles of safety, comfort, and privacy, ideas which are of the utmost importance to labiaplasty patients. Women who are interested in pursuing vaginal plastic surgery can feel comfortable and confident knowing that Dr. Toledo will provide compassionate, attentive care and satisfying surgical results. Experience matters.
Labiaplasty is performed at Dr. Toledo's state-of-the-art facility, Highland Park Plastic Surgery Center, and typically takes about one hour to perform. The surgery can be performed under local anesthesia or with intravenous sedation. During the procedure, Dr. Toledo uses advanced surgical techniques to reshape the labia. He is careful to make incisions that are inconspicuous to ensure the best aesthetic results possible.
The anatomy of the labia minora is divided into two distinct segments:
The long segment of the labia minora running distal, or below, the clitoris alongside the vaginal vestibule down towards the anus.
Surgery for the distal portion is relatively straight forward and involves trimming the excess labia minora skin to a level just inside the labia majora being careful not to excessively remove too much tissue.
The upper portion of the labia minora and skin above and alongside forming the clitoral hood, including the two paired oblique bands radiating laterally and inferiorly from the glands of the clitoris.
Surgery of the labia minora and skin surrounding the clitoris should be undertaken only in specially selected patients by a very competent surgeon with precise knowledge of the anatomy. Surgery in this area can affect sensation and alter the response to sexual stimulation. Nevertheless, some patients do have excess skin along the top and sides of the clitoral shaft. In others the clitoral shaft is long and protrudes outside the labia majora. Both of these conditions may be improved with surgery.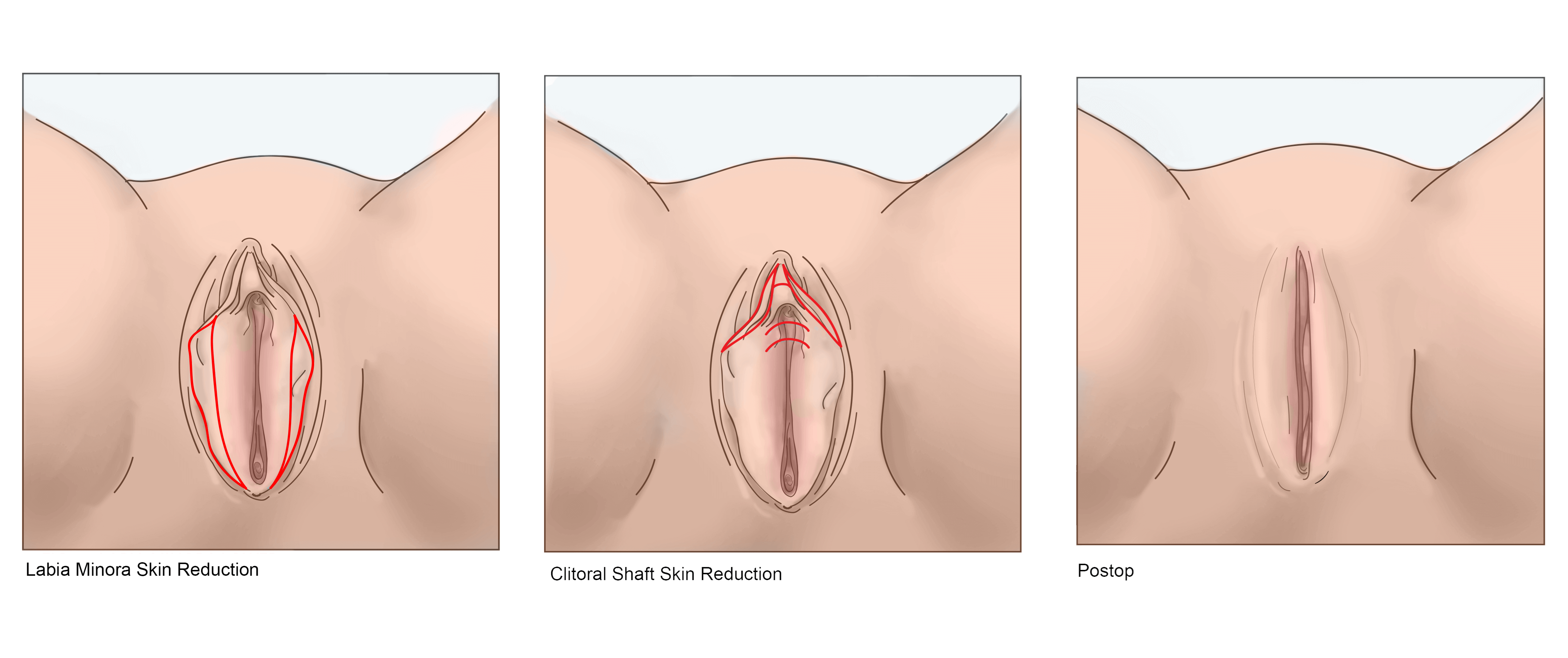 Cosmetic and functional problems with the labia majora usually occur with aging. The most common deformity is deflation from deficient fat volume which results in empty, unattractive skin folds. These thin, atrophic labia majora folds will accentuate the size of the labia minora and clitoris making them appear disproportionally enlarged.
Increasing volume in the labia majora is performed either by fat injections or dermal skin fat grafting using a patient's own tissues. Fat injections to the labia majora, unlike the face, don't always "take" and at best 50% of the fat dies. But the fat that lives should be permanent. The dermal fat skin graft is more expensive and requires a donor site incision in the abdomen, but it's more durable and the percentage of graft take is higher. Dr. Toledo has been performing this same procedure to the oral lips for over 20 years. Synthetic implants or fillers for labia majora augmentation are not recommended. Sometimes very saggy, droopy labia majoras need to be lifted by excising a strip of excess tissue.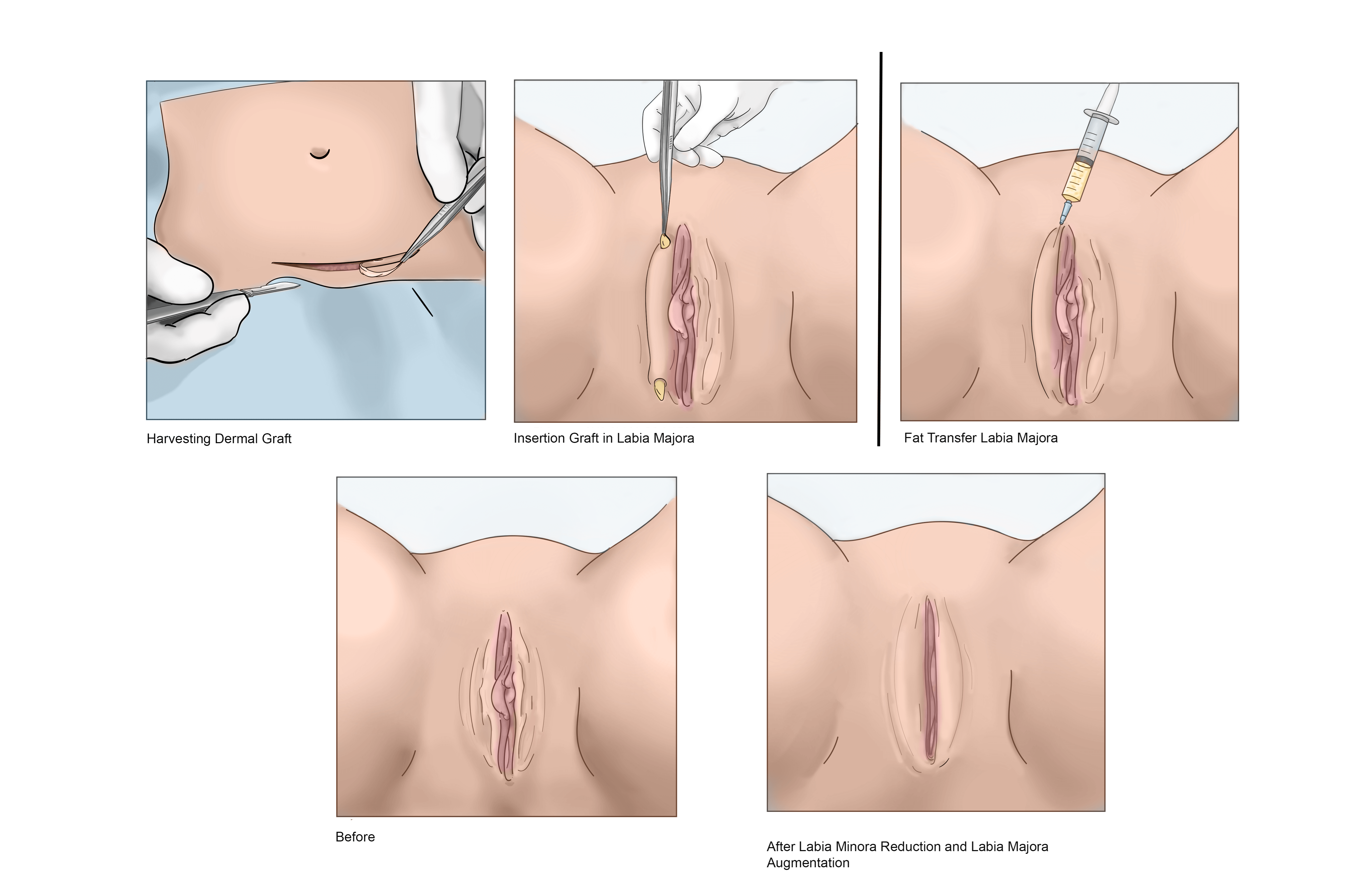 After surgery, the patient is released into the care of an authorized individual, so she can recuperate in the comfort of her own home. Dr. Toledo provides patients with thorough postoperative instructions to ensure a safe and quick healing period. Most patients are able to return to work and other normal activities in two to four days. However, more strenuous activities and sexual intercourse should be avoided for four weeks. Dr. Toledo and his staff are always available to answer any questions or concerns that may arise during the recovery period.
Women who undergo labiaplasty surgery with Dr. Toledo find that they are more comfortable with the appearance of their labia following surgery. This can help to feel more confident with their partner, enabling greater enjoyment in their sex life. The procedure also may eliminate some physical pain or discomfort. Most importantly, undergoing labiaplasty liberates women from the worry and embarrassment they may have about their most intimate area, thereby improving their overall sense of self, health and wellbeing.
Frequently Asked Questions
How much does a labiaplasty cost?
The determination of the exact pricing for a labiaplasty requires a personal consultation at our facility. Actual plastic surgery prices depend on your specific anatomy, operating time involved, surgical technique used, and type of anesthesia.
These are fee range estimates only and are subject to change.
$3,000 - $5,000 Labia Minora
$4,000 - $6,000 Labia Majora
$6,000 - $10,000 for both
Should I choose a plastic surgeon or OB/GYN?
When researching vaginal rejuvenation surgery, you may find that a large majority of obstetricians and gynecologists (OB/GYNs) offer labiaplasty. While many OB/GYNs are capable of performing labia rejuvenation, the procedure is most often considered cosmetic. An OB/GYN will be able to surgically remove excess skin from your labia; however, a plastic surgeon, like Dr. Toledo, will consider the aesthetics as well. This ensures scarring is minimal and that the final color, contour, and symmetry all look and feel natural.
Will vaginal rejuvenation surgery cause insensitivity?
As with any surgery, there may be some numbness in your vaginal area after the procedure is completed. This is temporary as the skin and vaginal lips heal. In regard to sexual sensitivity, it is important to understand that labia rejuvenation addresses the vaginal lips and not the clitoris. A skilled plastic surgeon, like Dr. Toledo, who has many years of experience performing vaginal rejuvenation surgery will work around the clitoris so that a loss of sensitivity does not occur.
What is the recovery process like after a labiaplasty?
Before your surgery, Dr. Toledo or a member of his team will go over what to expect after your labiaplasty and tips to make your recovery more comfortable. You will have some swelling in your vaginal area causing mild discomfort immediately after your surgery. You should plan to rest for at least 2-4 days before returning to work. You will be restricted from strenuous exercise for 3 weeks and sexual intercourse for 4 weeks after surgery.
Are there nonsurgical vaginal rejuvenation treatments?
There are nonsurgical vaginal rejuvenation treatments that can help to improve mild to moderate looseness in your vaginal area. However, vaginal rejuvenation is best for significant improvements to tighten and reshape your labia. During your consultation with Dr. Toledo, he can discuss your options and make recommendations based on your needs and goals.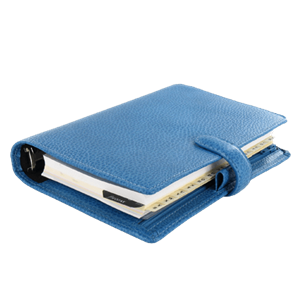 Plan Your Procedure
Average Cost

$3,000

-

$4,200
Contact Us
Comfortable and Confident
If you are considering labiaplasty, or vaginal plastic surgery, it is important to select a surgeon who will value your privacy, treat you with respect, and provide the aesthetic results you need to feel comfortable and confident. Dr. Toledo is a renowned plastic surgeon who is committed to providing a high-quality surgical experience, so you feel free to focus your energy on living life to the fullest. Learn more about labiaplasty or schedule a consultation today by calling our office. Experience Matters.
Related Procedures
Related Post